I'm baaa-aaaccck. Really, truly I am :)
Life got a little crazy for me last week and then Derek and I took off for a visit with my family and I went completely offline for THREE WHOLE DAYS!!! It felt absolutely ah-mazing.
But now I'm back. I'm refreshed, rested and feeling better than ever. It's amazing what a few days with the people you love most can do. We had such a wonderful time with my family....we ate, we laughed, we ate some more and we just had a lot of fun.
Eating is always a big part of our family visits. I swear I must have gained 5lbs and I enjoyed every. single. bite. We enjoyed spicy black bean burgers, oreo blizzards from DQ, homemade biscuits, the best Mexican in the State of Kentucky, blue cheese kettle chips, beer and much more. Unfortunately, I was so busy snapping these little cuties....
....that I didn't snap anything I mentioned above....
Seriously, can you blame me with all this cuteness running around??
Lucky for you though, I managed to snap a few mouth-watering pictures of Sunday night's dinner.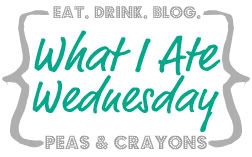 CHECK. IT. OUT.
Yummm-o!
We had corn on the cob, warm potato salad, grilled fresh veggies, smoked pork tenderloin, ribs & chicken (I'm told the meat was pure perfection --- yay for my hubby the "cook-a-roo"), coleslaw, fresh from the oven roles and a tomato/mozza salad with fresh basil. Dessert was my famous Skor trifle and homemade rhubarb pie.
Heaven.
If you're looking for more inspirational eats, check out Jenn's What I Ate Wednesday
page
. I'm willing to bet you're going to see a lot of barbecue and Memorial Day eats this week! Thank you as always to Jenn for continuing to host the most popular eats par-tay ever.
What is your fave barbecue side?
Do you ever feel the need for an offline break?
Have a great day,
Andrea
xoxo